Magic mushroom grow kit
Why buy a magic mushroom grow kit?
Magic mushroom grow kit.  Since December 2008 it is illegal in Holland to sell magic mushrooms commercially. Therefore fresh or dried magic mushrooms are not for sale anymore. However, the magic mushroom grow kits to grow magic mushrooms on a small scale have not been banned. It remains legal to buy them in a Dutch smartshop or online. The easiest way to get magic mushrooms is to grow them yourself. It's also fun.
Why get a magic mushroom grow kit from magic-mushrooms-shop.com?
All of our mushroom growing kits are produced with care in a sterile laboratory. We keep a limited stock, so the grow kits are shipped as fresh as possible. There are dozens of producers of magic mushroom grow kits. We have tested nearly all types of mushroom kits available on the market and subjected them to thorough testing. We only sell the grow kits in our catalog that are most reliable and have a good yield. Because the market is dynamic, we continue to test new types of kits, looking for ones that meet our standards. Looking for a special strain or do you have a general question? Contact our support center.
What is the price of the magic mushrooms grow kits?
The price starts at € 28,50 not including possible discounts and shipping. The shipping cost can be calculated by adding all items you wish to the shopping cart, and there you can fill in country and zipcode to get a pricing.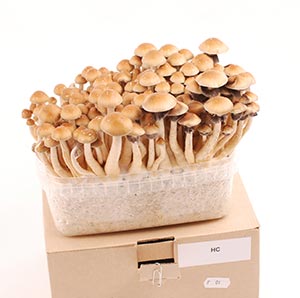 What is a magic mushroom grow kit?
A mushroom grow kit is a way to easily grow your own magic mushrooms.
The Mushroom Grow kit contains:
1x grow box with substrate containing living mycelium (the spores that have developed)

1x transparent grow bag with airfilter
2x paperclips
The substrate in the Magic Mushroom grow kit consists of rye, riceflour, vermiculite and perlite. The development of the spores into the mycelium has been done in a sterile laboratory. The only thing that needs to be done to grow the magic mushrooms out of this mycelium is putting the grow box in a warm, light and humid environment. For this you use the transparent grow bag and the paperclip.
You will need access to clean tapwater or mineral water and a warm spot with a temperature between 18°C en 29°C to put the kit to develop. Everything is explained in the magic mushroom growkit manual in a simple way. It also includes tips and recommendations to get the largest produce possible out of the kit. Keep in mind not all grow kits have the same instructions!
Showing 1–16 of 23 results